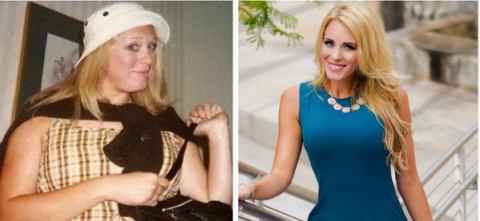 INSTAGRAM/@FITBODYWEIGHTLOSS
For most people, a trip to Disneyland is a happy occasion. But for Christina Jordan, 34, of Queen Creek, Arizona, it was one of the worst days of her life … and a blessing in disguise.
Nine years ago, Jordan was waiting in line for a ride with her family when she experienced what would be a nightmare scenario for any mother at the popular amusement park: "My family and I waited two hours in line for one ride, and we're hot and cranky. And when we finally go to sit, the seat belt doesn't fit over me," Jordan told People. "The poor kid that's manning the ride says, 'I'm sorry ma'am, it doesn't fit; you're too large to ride this ride.'"
Humiliated, Jordan fled from the ride. Then, another nightmare scenario occurred.
"I go to leave, and I couldn't fit through the people counter," she said. "My hips were too wide, so they had to open the gate, and I felt like cattle being brought out to slaughter. It was the most embarrassing moment of my life. But it also opened my eyes to the fact that I had to change. I did not want to live the rest of my life on the sidelines."
Warning
: count(): Parameter must be an array or an object that implements Countable in
/home/customer/www/easyrecipes01.com/public_html/wp-content/themes/flex-mag-child/single.php
on line
528